Comments
Stunning! Very beautiful photo of a beautiful model! Simply Perfect.

very nice portfolio indeed.this one however is my favorite,very sultry.


29210
2015-05-04 19:10:48.0
Gorgeous! this is my favorite


Love your pose and expression in this shot...

Great shot! Love the concept with the lingerie and the graffiti. Great job!

Sexxie in your all black ery thang

Wonderful work. I love the sultry image you captured.

Love the tease of this shot. Wish I could get you into my designs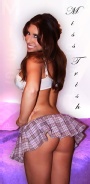 Love the shot, nice lighting

Sonia
2014-05-24 18:17:34.0
beautiful

This is such a beautiful and moody shot... In addition to the beauty it makes you think.