Info
Join:

29 Nov 2009

Last:

6 Mar 2010
Friends

| | |
| --- | --- |
| | |
About Me
Hello Everyone, My name is Daniel Navarrete and i am a 26 yr. old photographer in Fullerton, CA. I have been shooting photos for just over a year now, and all the photographs you see in my profile were done fairly recently. I enjoy taking good photographs full of color and expression. I am willing to shoot just about anything just to get a great picture, from nature to aircraft, to artistic nude.
I like having a good time when shooting, and i don\'t like to work with people with bad attitudes. So, if you have one, move along, and find another sucker for a photographer. lol.. It sounds cruel, but, i\'d rather surround myself with good people.
If anyone ever wants to shoot sometime, all you need to do is just let me know if you want to shoot and what type of shoot you are interested in. I am also willing to help models build up their portfolio in exchange for TFCD/TFP.
I like trying new things, and am open to any new ideas for a shoot. It gets tiring to try the same look over and over. So, let\'s collaborate and try something new
If you ever have any questions or concerns, please feel free to ask
Thanks,
Daniel
The Strider
********************************
Found that someone had done a profile on me on another page. Definitely flattering to see my stuff somewhere else
http://www.mostbeautifulwoman.com/blog/120.shtml
http://www.bustedcoverage.com/image.php
… 24488a.jpg
http://www.modelgraphy.com/us/photo_804471_27649.html
********************************************
================================================
SHOOTS SCHEDULED
April 24thth, 2010:= Carmen Betty (Wedding)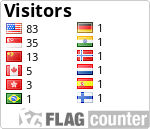 Create your own visitor map!
Credits
In case you are wondering, yes, i did take this picture and the other aircraft picture. If you are curious as to how, just ask ;p
I have been fortunate enough to work with some incredible people. Props to you all
Tags
30 Nov 09 21:49
Damn it anyway... I just can't decide which capture I love the best. They are all excellent.
30 Nov 09 08:15
Welcome to istudio. Fantastic port. Love the model excuse thing LOL
30 Nov 09 07:43
Welcome to IStudio