Details
Height:
5'4"
Weight:
110 lbs
Measurements:
34-26-35 in
Shoe Size:
4
Hair Color:
Blonde
Hair Length:
Very Long
Eye Color:
Blue
Ethnicity :
Caucasian
Skin Color:
Tanned
Experience:
Some Experience
Compensation:
Depends on Assignment
Info
Join:

9 Apr 2009

Last:

9 Nov 2010
Chantel3
Female
Cape Town (South Africa)
IS URL: 
http://istudio.com/chantel
About Me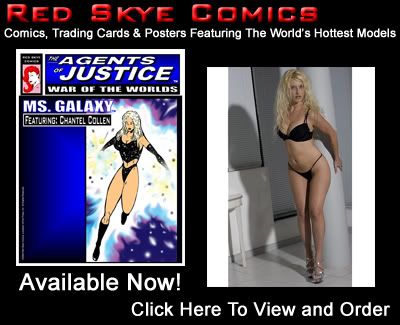 Check out my comic page above.
Thank you for visiting my site.
I love being in front of the camera and always take my assignments seriously.
I am easy to work with, always punctual and completely professional.
Although as a rule I do not do TFP/TFCD, should the right shoot come along, I may be pursuaded to do so.
Please feel free to contact me.
XXXXXX- look forward to hearing from you -XXXXXX
Tags
26 Dec 09 06:04
Belated Merry Christmas to you my friend and your whole family. Good health and God bless!!! xo Marianne- WRS
08 Sep 09 22:35
Thanks for the compliment, you a got a great port too : )
07 Sep 09 15:24
Beautifully done!
15 Jul 09 14:52
Hey girl... How ya been? I survived my first surgery, and got a nice scar to prove it. Guess my art school modeling days are over. LOL Have you been shooting much lately? Mark
15 Jul 09 11:28
Any plans to visit the States? I'd love to get you in front of my camera...
21 Jun 09 17:00
Thanks for the add, love your look:)
04 Jun 09 10:05
Love to introduce you to millions in the USA You have it all.Love your hair
01 Jun 09 20:04
Looks like you've been busy... some very nice new images. Any luck with the magazine search? Mark
28 May 09 17:12
Hey! Thanks for the comments! I hope some day can work with you! Here a friend and photographer! Di Carlo
28 May 09 16:42
Thanks for teh add, good work and photogeny! Here a friend and photographer in Puerto Rico! Di Carlo