Details
Height:
5'7"
Weight:
115 lbs
Shoe Size:
9.5
Hair Color:
Brown
Hair Length:
Very Long
Eye Color:
Brown
Ethnicity :
Other
Skin Color:
Tanned
Experience:
Very Experienced
Compensation:
Depends on Assignment
Info
Join:

18 Apr 2010

Last:

15 Sep 2014
Sun Karma
Female
Richmond, Virginia
Sun Karma
IS URL: 
http://istudio.com/sunkarma
About Me
I'm a published author/artist.I'm also the Roving Reporter for Hustler Magazine which I've doing since 2006! I also write for RVA mag, Prick mag (tattoo mag), and a few other zines and online zines. Writing is my first love- although I have been modeling since I was 8 years old. (which accounts for my eclectic ideas and themes when it comes to shoots)
<---- DON'T FORGET TO CHECK OUT MY TV APPEARANCES/VIDEOS
I am proud of who and what I am, and what I have done through the years. I was an innovator in my field when no one chose to step up to the plate in the ethnic modeling industry. I blazed trails and I will continue to do so. What saddens me is that some people in this industry feel that in order to bring themselves up- they must put each other down. I am beyond pettiness. I am a professional, courteous, kind and horridly honest. And I also take no prisoners when it comes down to business. I am a mature model but I do not look anywhere near my current age (36). My age range is 20-40.
I'm pretty much open to shooting with anyone on a tfp basis in Richmond and surrounding areas. I will travel anywhere within reason on the East Coast. Anywhere from NY to Florida...If there is extensive travel required I would ask the courtesy of some travel fees paid or a deposit for my travel time.
I'm interested in photos that tell a story. I don't particularly love glamour in that my style is a bit more 'edgy' than that. I don't want to create "photographs". I consider myself a visual artist. I want to create ART. I am particularly interested in getting more into the horror/macabre genre with my photos, and doing more goth/alt and Burlesque work.
I have done everything from pinup style,gothic,vampire pics (quite fun), commercial modeling, modeling for 'porn' mags (Hustler magazine: 5x, actually), and adult sites (gothicsluts.com and several more) to runway. I have done glamour but find it quite 'fluffy' and non substantial. I'm pretty open to anything but I will not do nudity without pay (unless you are a select few photographers I have worked with before in that genre.) And only then it will be playboy/penthouse style. I believe the human body is indeed beautiful-but I will not do hardcore porn. "SIM" work and G/G "SIM" is ok.
I'm looking to get more into the artistic side of photography where light and color play more a part than the figure itself. I want to do more photos that showcase my artwork (I'm a tattoo collector) and perhaps for submission into some more fetish/tattoo art type magazines.
I only accept TFCD with photographers that are in the same vein as what I'm going for.
I
WILL
accept movies/commercials, etc. But no music videos.
I am a style chameleon and have MANY looks and personalities that I play with often. I own an extensive costume repertoire of fetish, cosplay,victorian/steampunk clothing and gothic clothing as well as wigs, hairpieces, and extensions. So if you think you can do me justice with your creativity as a photographer: send me a message!
DANKE!
Concepts I have or want to work with are as follows:
-Glamour
-Post-Apocalyptic
-Cyberpunk
-Steampunk
-Goth
-Fetish
-Burlesque
-Sci-Fi
-Fantasy
-Horror
-Pinup
-Vintage
-Cosplay
-Punk
-Lolita
-Quirky
-Vampirism
-Harajuku
-Anime
-Painting (I have been painted several times from my photos)
-Bodypainting
-Shibari
I am very interested in Photomanipulation to create striking, unique images that vary on the sci-fi/fantasy vein as well.
This is a small list of what I have done: but it is not complete: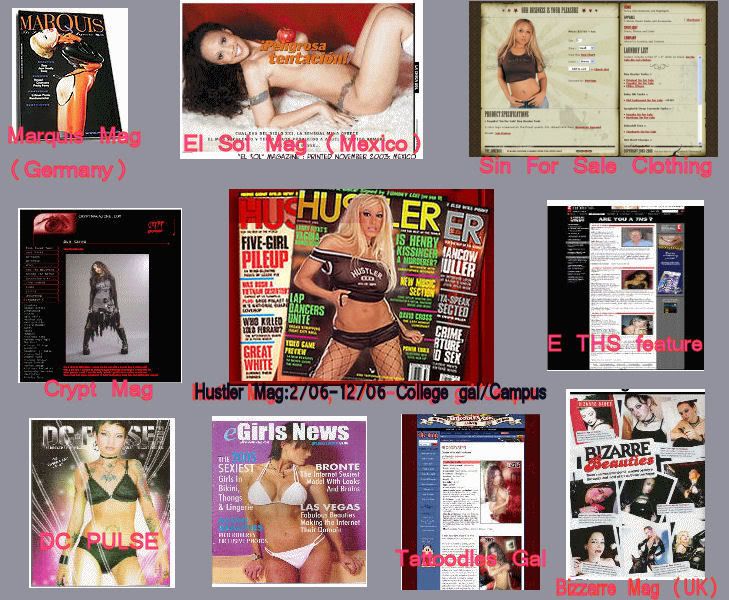 This has not been updated in several years: so its best to check out my extensive resume below.
And my 'myspace' is: www.myspace.com/ladyslaughterhouse(personal friends only) and www.myspace.com/sunkarma (business only)
facebook: www.facebook.com/ladyslaughterhousedolliepop
portfolio site: www.sunkarma.net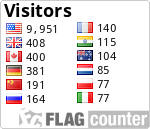 ~~~~Tattoos~~~~
I am tastefully but extensively tattooed. I have a chest-piece, both arms (dragon on one, Isis on the other), my naval (Oshun veve) and both ankles (knife wielding fairy on one and Eye of Horus on the other) as well as a rose vine around my waist and a purple kitten head further down. I have vampire bites on my neck. I also have a large blackwork ankh with a celtic star in the center of my back. On one wrist I have a koi- on the other I have leopard spots.
~~~~Piercings~~~~
Ears
Naval
Nose
Genital piercing
Me in Urban Ink Magazine
Hustler magazine 09/07 Feature.
Other links:
http://www.istudio.com/sunkarma
http://www.zivity.com/users/badmojojuju
http://ladyslaughterhouse.deviantart.com
http://www.glamourmodels.com/cgi-bin/models.cgi?ID=sunkarma
http://www.body-rockin.com/user/model_details.php?id=67&navpage=dir&sid=13&stitle=Adult
http://www.babes.net/detail.asp?name=Sun+Karma
http://sunkarma.ning.com
http://www.babewarehouse.com/model_portfolio.php?model_id=1887
Remember: "Imitation is the most sincerest form of flattery...aside from jealousy!"
Thanks for taking the time to look at my profile. Feel free to contact me for your next shoot!
Love and Rockets!
Sun Karma AKA: Lady Slaughterhouse
Credits
My rates are variable from negotiable depending on shoot and content ranging to full nude/sim work. If you have a question about my rates: just ask. I most likely will work something out as I am building a new port.

Resume

**AFTRA UNIONED ACTRESS**

ACTING

The bill collector
So Mort It Be
Chronicles of a Skater
For Real
Nothin to Lose
Asunder
Adjourned: The Series Psychiatrist
2 Minute Warning
Taboo Lingerie
Michelob Beer

TELEVISION


TYRA Show: "Guess my race" November 2008
Brainy Busty Babes Jenny Jones Show
Geeks to Chic Maury Povich Show
Mixtape Mondays Feature MTV
MTV News Feature Spotlight MTV
B.E.T. Countdown Black Ent. Television
Line of Fire Extra NBC
Sally Hemmings: An American Scandal Extra
Lincs Extra Millennium Studios
Law and Order Extra CBS
Third Watch Extra CBS

Promotional Work

Nissan Import Nights
Pantene Total You Tour
Monster.com
Bacardi
Dove Beauty Products
Vans Warped Tour
Olay of Olay: DEFINITY


STAGE


Tartuffe
Taming of the Shrew
Cinderella
Sorry, Wrong Number
Dracula
The Glass Menagerie
Blithe Spirit
A funny thing happened on the way to the forum


RADIO

Bobby Billiard s Radio Show
Book Talk
WHAT 1340 (Philly) Black Diamonds


MAGAZINES


2004 El Sol Magazine Centerfold
09/04 Bizarre Magazine Babe
2005 Marquis Magazine (Germany) .36 Big in America
08/2007 Black Men s Magazine: Urban Ink preview
11/2007 Urban Ink Magazine feature
02/08 Prick Magazine Cover/Interview
MK Ultra: VIXXXEN S
Stuff Magazine LBB
Taboo Magazine: July 2005- Feature
Blueblood/Gothic Sluts
Inkygirls.com
Tattoodles Girl (feature)
51flavors
Marquis Magazine
Hot Punk Girl
Me Magazine
Black Beauty & Hair
Gothic Beauty
Beauty Fashion Magazine
Henrico Country Recreation and Parks Poster:
WW10 CD Cover
BOAW CD Cover
American Heart Association Poster
Egirls News centerfold feature
Urban Ink Magazine- Feature
Marquis Magazine
Bizarre Magazine (UK) Bizarre Babe
Bizarre Magazine : Ultra Vixen:(UK) Bizarre Babe (2009)
Sinforsale.com (clothing model)
Vampsandtramps.com (clothing model)
Secret Magazine Miss Secret 2006 Contest
Interview: Richmond's Most Wanted magazine: Taboo (2009)


Occupation
Published Books: www.sundariprasad.com

Absinthe: Prosaic Bouts of Delirium Swallowing Jewels
Musings of a Mad Madam
The Split Brain:An Analysis of Schizophrenia
The Split Brain II:Alternatives in treatment
Noise: The Story of Dr. Rosemary Rodgers
Non Traditional Families
Stupid Frogs
The Lilitu: The best of Sundari Prasad
PURE: Stories of Sex, Abuse, and Addiction
Slain- Rantings of a Raped Spirit


As Hustler Magazine s ROVING REPORTER

Articles/Interviews: (all in Hustler featured spreads of me as well)

07/09: Richmond Tattoo arts convention
10/09: "Secret" article: stay tuned!!!!
04/09 Best of Beaver Hunt
02/09 CONSLUTS: dragoncon II
11/08 My secret life as a stripper
10/07 Free Speech Don Imus article
04/08 Cybergoddess article
02/07 Taboo Girl
2005 College Girl
12/06 College Girl (2 page spread)
09/07 Most Beautiful Exotic feature
06/07 The AVN Report"-




MAKEUP ARTISTRY


SMASHBOX COSMETICS Regional Makeup Artist
M.A.C. Cosmetics Freelance Makeup Artist
Chanel Cosmetics Freelance Makeup Artist
Lancome Freelance Makeup Artist
Millennium Modeling Agency Makeup Artist
THE HUMAN CANVAS Makeup Artist/Spokesmodel






Tags
19 Jan 11 01:58
love your work... :) contact me if your ever in my neck of the woods
29 May 10 17:20
Hey Sun, hoping to get with you for a shoot soon.
25 May 10 02:34
Just stopping by your page to say hi! Please let me know if you're ever in need of any professional photo retouching for your photos.
02 May 10 11:11
Oh, thanks :-)
01 May 10 03:58
Im the model?!
21 Apr 10 02:08
Great work. Thanks for the tag and comments! God bless always, Marianne WRS
20 Apr 10 02:17
Welcome to iStudio.
18 Apr 10 23:45
Bring It to Bmore . . . . .