Info
Join:

27 Jun 2009

Last:

6 Sep 2019
About Me
Professional Photographer based in Windsor ON CanadaVisit my FaceBook Page!
Diverxity:
http://www.diverxity.com/users/31390?referral=gallery616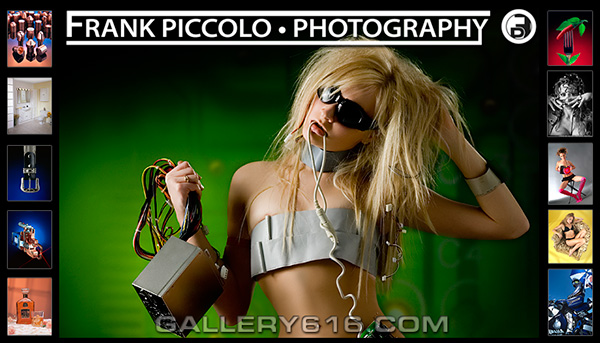 Visit my website for more information...
http://www.gallery616.com
The site will be update to a complete new clean design in the coming days and will include a Store section with select art images for sale.
Please visit often and watch for updates!
• My WORK & My PASSION•
1:
My WORK
I run my own small Graphics Co in which I shoot Commercial and Industrial catalogue advertising work. I layout and design brochures, catalogues, trade show posters etc. and offer custom high quality Giclee printing service for artist and photographers at reasonable prices.
Feel free to contact me for any and all of your advertising needs.
and I also shoot some model portfolios as well.
2:
My ART / PASSION
I shoot creative Fine Art Nudes (non commissioned work) and some Glamour when I find the time.
I display my art or glamour on my online profiles and or websites and in Galleries and Art shows/events.
I an very busy with my business these days, so...
I only offer Very Limited TFP's for creative Fine Art Nudes at this time (You must be of legal age, show ID and sign a release). If I need a model for catalogue work I may do TF-Tear sheet.
TFP is so misunderstood and abused... Models and photographers alike should understand that TFP (Time for Prints) is a form of compensation... as long as the produced prints/images are of quality, they do have monetary value.
• If you just need to build a model portfolio, my prices are very reasonable and you can be assured Quality print work in your book... call for details and appointments.
• I am located in Windsor Ontario Canada.
• Only 10 minutes across the Bridge from Detroit MI.
• Technical Qualifications:
I mainly shoot with a Digital SLR these days... but I have over 22 years experience as a photographer shooting most film formats including 35mm, Medium format 6x7cm and large format view camera 4"x5" sheet film.
I also have approximately 14 years in Prepress workflow, image editing (Photoshop) and Layout and design etc.
________________________________________________________________
• If you're serious about working with me or would like more info give me a call 519-250-8989 or message me.
• I am happy to supply references upon request.
Thank you
Frank Piccolo
Lists
Credits
Fine Art Credits...
• Detroit Dirty Show XI 2010 (2 pieces)
• The Seduction of Art show (a MWSEP collaboration) @ cPOP Art Gallery in Detroit MI - April 17-18, 2009
• Detroit Dirty Show X 2009 (2 pieces) including several in the Museum Art store at the front of the show.
• Detroit Dirty Show 9 2008 (2 pieces) including several in the Museum Art store at the front of the show.
• 8 Pieces on display as a a tasty side dish for the Menage a Trois show @ The River's Edge Gallery in Wyandotte MI Sept, 21 to Nov. 10th 2007.
• Mid West Society of Erotic Photography - Summerotica -
Inaugural Group Exhibit - July 28 through August 25, 2007
@ the S3v3ranc3 Gallery in Detroit, Michigan
• I'm proud Charter Member of the
Society of Erotic Art
formerly known as The Mid West Society of Erotic Photography
http://www.societyoferoticart.com
• Detroit Dirty Show 8 2007 (2 pieces) including several in the Museum Art store at the front of the show.
• The Body Beautiful Show Windsor 2007
• The Naughty Show Windsor 2006
• Common Ground Art Gallery in Windsor
• PHOTO-LIFE Magazine March 1996 issue: 3 of my fine art nudes were published along with a technical article I wrote.
Tags
01 Apr 14 13:07
Stunning port!
30 Dec 13 03:13
Thank you very much for nice pic comments. Your portfolio very beautiful! If ever you come Ukraine maybe can work together.
24 Sep 13 15:04
Yes, hopefully one day we'll be in the same city and we can work together! :)
24 Sep 13 13:33
I was wishing the same thing! :)
24 Sep 13 13:17
Beautiful work!!!
30 Dec 11 13:12
Love the port. Very creative and awesome.
21 Nov 11 12:18
you have nice works! love it!
23 Apr 11 15:07
Thank you for stopping by and lovely comments! Your portfolio is amazing. LOVE your work! Brenda
21 Apr 11 16:31
very nice portfoli i love it www.zarihsretouching.com
16 Feb 11 12:43
Hey Frank, Impressive port !! Thanks for your pic comment ;-)