Info
Join:

11 Jan 2010

Last:

11 Jan 2013
inklusions
Male
48 years old
odessa, Texas
inklusions.com
IS URL: 
http://istudio.com/inklusions
IS #:1430638
Artist/Painter
About Me
Thanks for stopping by, my name is Daniel Burlingame.an artist looking to expand my portfolio.
Most of my work is done with an airbrush, I also specialize in ball point pen work.
Im here looking to network with models and photographer, I use photos as reference for my work.
take a look at my port. if you may be interested in a collaboration, just let me know and we can work it out.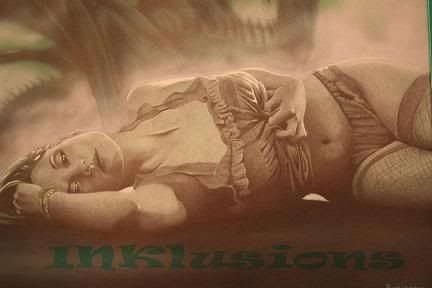 Credits
Tags
22 Oct 10 17:10
Thanks for the comments...Awesome work!!!
22 Oct 10 14:13
Thanks so much for the kind words. Love your work!!
19 Aug 10 11:44
WOW! Great work! Thank you. Megumi
04 Aug 10 13:01
Right back at ya' VERY Nice work!!! Steve
23 Jul 10 22:19
Thanks for the FR, you're quit the Artist! WOuld love to see more of your work.
10 Jul 10 13:39
thanks for the FR! if you're ever in Miami, perhaps we'll be able to work together! ;)
28 Jun 10 11:11
Thanks for the FR, wonderful work. Chas
27 Jun 10 00:47
WOW! Great Work!
28 May 10 13:02
Thanks for the FR! Love your style, very nice work!
09 May 10 22:02
Thank you very much for FR