Details
Height:
5'6"
Weight:
105 lbs
Measurements:
33-25-36 in
Shoe Size:
5.5
Hair Color:
Brown
Hair Length:
Long
Eye Color:
Brown
Ethnicity :
Asian
Skin Color:
Olive
Experience:
Experienced
Compensation:
Depends on Assignment
Info
Join:

14 Mar 2009

Last:

20 Jul 2009
About Me
Hello everyone! Thank you much for visiting & the name is Sindee Sindee. I've fallen into the world of modeling & pageantry since the age of 18 & definitely endeavoring more w/in the industry. I currently work & school full-time so I'm greatly appreciative of paid gigs.
TF* are considered, thus limited w/only talented folks w/professionalism! Did I mention "Professionalism?!?!" lol ~Please respect my time/work.~
I am able to do my own make-up & hair, thus prefer a make-up artist & hair stylist on hand. I can travel w/paid expenses & advance notices.
**No nude/implied. Please respect that & don't ask me why.**
For project opportunities, please provide the following...
Name:
Location:
Date:
Time:
Compensation/Fee/test:
Makeup/Wardrobe/Hair:
Project Description:
Contact Information:
~~~~LOOK FORWARD TO YOUR COLLABORATIONS!!!~~~~
Credits
[PRINT] [RUNWAY] [ACTING] [AWARDS]
*Sheek Modeling Agency 2002-2005: Print/Runway Model
*Miss Teen Utah 2004: 1st runner up
*Miss Teen Utah International 2005: 1st place evening gown
*Fashion Shows: Runway Model
*Vanity's Fashion Shows: Runway Model
*Blind Guy 2005: Acting
*Sat Lake Community College DVD 2005: Acting
*Miss Vietnam Utah Calender 2005: Model
*Miss Vietnam Utan 2006: Miss Elegance
*Salt Lake Community College DVD 2006: Acting
*Low Book Sales Commercial 2007: Acting
*Miss Vietnam Utah 2007: Miss Vietnam Utah
Miss Elegance
Miss Traditional Wear
*Peerless Hair Show 2008: Hair Model
*Black Chandelier Fashion Show 2008: Runway Model
*Cowup Girl Catalog 2008: Clothing Model
*Redel Media Group 2008: Survey Model
*Ricky Cam Photography 2007
*Craig Allen Photography 2008
*Joseph Pace Photography 2008
*Palmas Nguyen Magic Show: Oct. 2008 Model/Assistant
*Palmas Nguyem Magic Show: Dec. 2008 Model/Assistant
*Quoc Van Photography 2007 & 2008
*Utah Valley University Art Class: Jan. 9, 2009 Model
*Salt Lake Commnity College Photography: Jan. 30, 2009 Model
*Chad Zavala Photography: Feb. 2, 2009 Model
*Nikon Omero Photography: Feb. 15, 2009 Model
*Van Son Entertainment Production: Feb. 21, 2009 MC/Model
*Cullops Photography: Mar. 21, 2009 Model
*Stock Photography: Mar. 27 & 29, 2009 Model
*H & M Entertainment: Marketing & VIP booking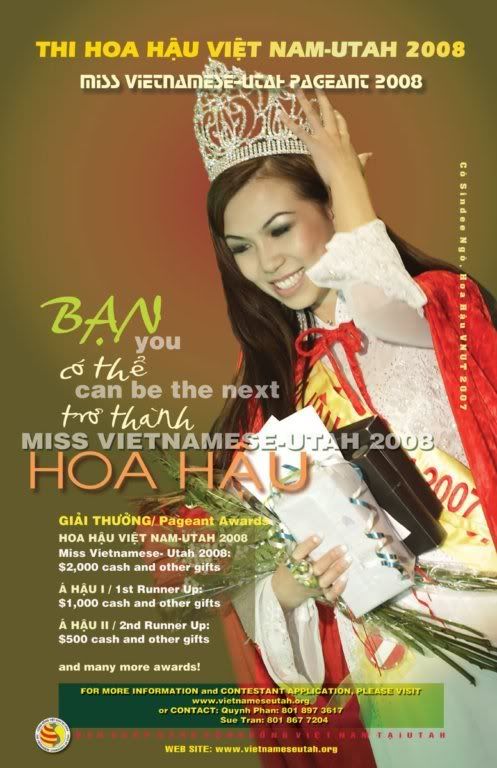 Tags
20 May 10 00:46
Awesome work! Since OMP bought out Istudio and they might close this site down check out ModelingINTL.com its free and offers 100 photo space!