Info
Join:

17 Nov 2008

Last:

19 May 2014
Mick Gleissner
Male
Miami Beach, Florida
Currently in Singapore
Mick's YouTube Channel
IS URL: 
http://istudio.com/mickgleissner
About Me
Now casting for my new TV show "Underwater Action"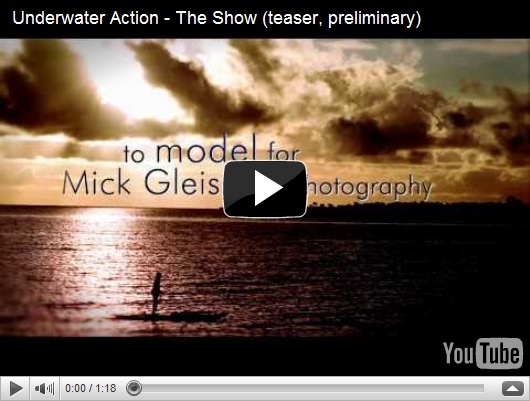 Check out the teaser piece!MY SPECIALTY: UNDERWATER FASHION PHOTOGRAPHY AND CINEMATOGRAPHY
I am a film director in my "day job", but my artistic side is dedicated to underwater fashion photography. Available for commercial projects, catalog work, swimwear. I do not work for free, and I do not expect models to work for free either.
I am looking for outstanding models from all over the world that are able to do underwater work.
There are few modeling skills that require more talent and discipline than underwater modeling. While the photos look effortless, my experience has been that only a select few models have what it takes.
First you have to LOVE the water, don't worry if you can't hold your breath for long periods of time, we can train you (unfortunately smokers don't have the lung capacity necessary). What we cannot teach you is how to keep your eyes open under water – you either have this ability or you don't. It can't be taught.
All my portfolio photos are shot in the actual marine environment - no photoshopping etc. I do most of my work in the Philippines where the waters are clear and warm (unlike the U.S. or Europe), and there is lots of colorful marine-life.
On all our shoots, safety is a priority: First-timers are trained 3-4 days in advance of the actual shoot. On all shoots we have dedicated safety divers and a professional divemasters present.
INTERESTED?
I always have jobs coming up (also film and music videos), if you are interested, please send me your portfolio (email is preferred). All of my commercial jobs have a budget for talent (including travel and accommodation), we shoot in a professional studio environment.
When you contact me, please give me some additional background:
- how "aquatic" are you? Do you have diving/snorkeling experience? Do you have a scuba license?
- can you open your eyes comfortably underwater?
- how long can you hold your breath underwater?
- do you have a passport (all shoots are on location in Asia)
Looking forward to hearing from you!
Mick
Mick Gleissner Photography
Los Angeles - Hong Kong - Cebu
http://www.mickgleissner.com
| Just uploaded many new videos of my underwater shoots at:| http://www.Youtube.com/mickgleissner
Lists
Credits
Complete filmography at
http://www.imdb.com/name/nm1698419/
- Director
DEEP GOLD
(starring Bebe Pham, Philippines, in post prod.)
- Director
Girl With no Number
(starring Bebe Pham, Vietnam, in post prod.)
- Director
Irreversi
(USA, 2008) - Director
Hui Lu
(Hong Kong, 2008)
- Executive Producer
Midnight Movie
(USA, 2008) - Exec. Producer
Shanghai Kiss
(Hayden Panettiere, USA, 2007)
- Executive Producer
3 Needles
(Lucy Liu, USA, 2007)
- plus 20+ tv shows for networks like Fashion TV, Fashion One, LA 18, Guangdong TV etc.
If you are interested in my films, check out my YouTube channel with plenty of videos "Behind the Scenes" of my latest movies:
http://www.YouTube.com/michaelgleissner
Tags
08 Jun 15 10:01
nice work
24 Jul 14 23:34
Fabulous work!
17 Jul 12 13:25
Hey, thanks for the FR! amazing port! Would love to do a shoot with you some day :) Chelle
24 Jun 12 02:07
Amazing work!
03 Mar 12 01:01
Your portfolios are phenomenal, I'm so flattered to get your request. Keep up that amazing work :-) All the best!
12 Jan 12 04:51
Hey, thanks for the FR. Would love to work with you too :) Always wanna have a try with underwater modelling :) Have a nice day :)
09 Jan 12 13:04
Thanks for the request! Nice port, very creative! -Elaine
08 Jan 12 19:11
nice too have you as a friend on my page! Love your work greets Sabine
17 Dec 11 16:27
Merry Xmas and a happy NEW Year Mick :))
15 Dec 11 00:34
Happy Holidays Mick to you and yours!!!!!!!