Details
Height:
5'8"
Weight:
112 lbs
Shoe Size:
9
Hair Color:
Black
Hair Length:
Short
Eye Color:
Hazel
Ethnicity :
Caucasian
Skin Color:
White
Experience:
Some Experience
Compensation:
Any
Info
Join:

22 Sep 2009

Last:

11 Feb 2010
Elisabeth Clothed
Female
35 years old
United States
About Me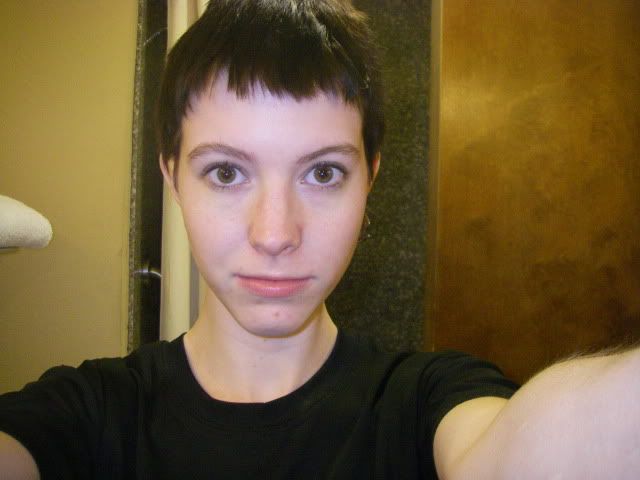 This is my current hair color and cut, it is not styled in this photo at all and I am wearing no makeup.
I am in Greenville, IN now. I'm working on getting my driver's license for the first time ever.
I may look familiar, do not adjust your monitors. It is in fact me again. This is my cloth-ed profile obviously.
Please be patient with me on getting back to messages right now. My computer is broken and I get very limited time on, I may read it one time and reply the next. I'm sorry for this, I am not ignoring you.
I'm a semi-professional model. Or at least I used to be. I just got back into modeling November of 08 after taking a year off. I'm working still at getting back up to my old level. I'm very professional on shoots and can come up with poses on my own or take direction, I do need to know context of the idea abit to help.
I am open to TFCD or TFP. I'm constantly working on getting better.
If you have an interesting idea contact me and we'll maybe work something out.
Also, I'm going to put a candid no makeup and current hair(the beitou shoot is most recent) up here soon.
Credits
Tags
19 May 10 20:12
Elisabeth, Have you had a chance to check out our website? http://www.ModelingINTl.com/
04 Mar 10 12:22
Hi Liz, i think your profile is very interesting to read, and your photos are very attractive, beautiful, elegant, and Stunning, Love Gareth.
21 Dec 09 19:31
Welcome Elisabeth, If you need anything we are all here and if you are interested in contributing to our magazine, feel free to message me: http://www.ModelingINTl.com/issues Mike