Kamryn at the Kabyn
Jim Forrest
Austin

Comments

Such a fun and sexy pose.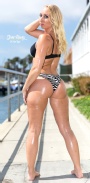 Dasha
2013-09-21 12:40:08.0
nice pic


She has that just woke up look. nice job.


This is a great shot ~ Beautiful model~ excellent pose ~ wonderful colors. Still a fav....

Awesome image! Is Kamryn on iStudio?

great photo & gorgeous model!

Most beautifl - Great capture.

Rosi
2010-11-30 09:13:46.0
Very Sassy.