Details
Height:
5'1"
Weight:
98 lbs
Hair Color:
Black
Hair Length:
Long
Eye Color:
Brown
Ethnicity :
Hispanic
Skin Color:
Tanned
Experience:
Some Experience
Compensation:
Depends on Assignment
Info
Join:

24 May 2010

Last:

24 Aug 2010
Cristina Flores
Female
33 years old
Orem, Utah
About Me
Hello
My name is
I am 22 years old, i know I look like I am 12 but no I really am 22! I am From Ecuador i lived in NY and in Florida now i currently live in Utah. I am not the greatest speller so please forgive my grammar. I am a very fun person to work with...(well I think I am) I have fun in a photoshoot and hope you (who work with me) have a good time as well. Love the life you live, live the life you love.
I love photography. I enjoy taking pictures and love to smile for the camera.
If you are interested in working with me let me know I will listen. I don't do Nudes/Lingerie but thank you for considering me. Well that is all for now.
Besos,
Cristina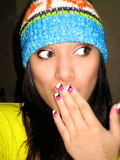 Credits
You can see some images that have been used here:
http://www.facebook.com/album.php?aid=1
… 1314960049
................Great Photographers I have worked with...............
Rubberball
RichVintage-Mayhem #98799
Jacom Stephens-Mayhem #398006
Ryan Christensen-Mayhem #333818
Renee Lee-Mayhem #259219
Todd Keith-Mayhem #873810
BeckyRockwood-Mayhem #798895
Photo Atelier-Mayhem #873810
Legacy One Photography-Mayhem #612573
Steve Debenport-Mayhem #672844
Niki Young-Mayhem #386780
Trista Weibell-Mayhem #1152402
Deborah L Cheramie
Andrei Chernov
Mesha Zelkovich
Mark Hatfield
Alina Vincent
............Models I have worked with............
Teilmann Edward-Hansen-Mayhem #846293
Logan Olsen-Mayhem #1151787
BrittneyHansen-Mayhem #1048733
James Drake-Mayhem #535699
Brian Jeune-MAyhem #1062630
Tags
01 Jun 10 17:00
If you need anything we are all here and if you are interested in contributing to our magazine, feel free to message me: http://www.ModelingINTl.com/